Welcome to Silver Ball Bakery!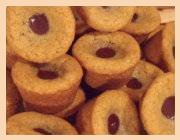 Welcome to the Silver Ball Bakery, for your custom baked goods and desserts.
Founded in 2008, The Bakery has been designing new desserts and raising the bar on old favourites to accomodate the most discerning palate. With a single bite, you will know why our customers return to us again and again.
Constantly developing new flavour sensations, check out the News page for the latest updates!
You can click either the Cookies & More tab, or click the Cuppies on your left for our current list of delicious and mouthwatering goods.